Who doesn't wants to get a higher rank on google and enhance the business website to another level? Everyone loves to become successful but without a strategy and finding the right weapons, success will go far away from you. You have to strive for it. Similar is the case with the development of a website and making it rank and become popular among the masses.
If you want to make a website and rank it better in SERP results, then it is necessary to know about the best content writing and SEO optimization tools. In today's post, we discuss in detail Surfer SEO vs Semrush: which one is better for SEO? 
Surfer Seo vs Semrush
Do you know about Seo? What does it mean for website ranking, and how will it benefit marketers, business people, and companies? It is an important question, so we must find out about content optimization. Seo (search engine optimization) is the base and backbone of the content if you want more visibility online. More online visibility helps you to gain more traffic which is necessary to grow your business at a massive level. In this topic, we will discuss the two most essential Seo tools that are helpful in content optimization and which are better in terms of SEO.
Seo and its importance
Seo is important for increasing the organic traffic on your website and app. It is a practice to increase traffic and improve the quality of traffic for instant online business growth in search results. It can be done if your content is relevant to the keyword that matters most to the searcher. A Good Seo strategy gives you many benefits, including
Saves money

Help to navigate through the website better

Good ROI 

Expand business

Website credibility and trust,

Good for competition
What Is Surfer Seo?
Surfer SEO tool is designed for the content optimization of websites to increase organic traffic. These tools contain some critical points to increase traffic; these are as follows:
Keyword research tool
A list of keywords is available to you by just typing seed keywords in research. It is known as similar keywords in default settings, and you can also get search volume, SERP similarity, and much more. With the help of SERP similarity, you can get how much each keyword is similar to the seed keyword in percentage. The possibility of ranking content higher is increased. Some other sections are the same term section and question-related to your primary keyword. You can also use Surfer SEO free trial 2023 to check its amazing keyword research tool.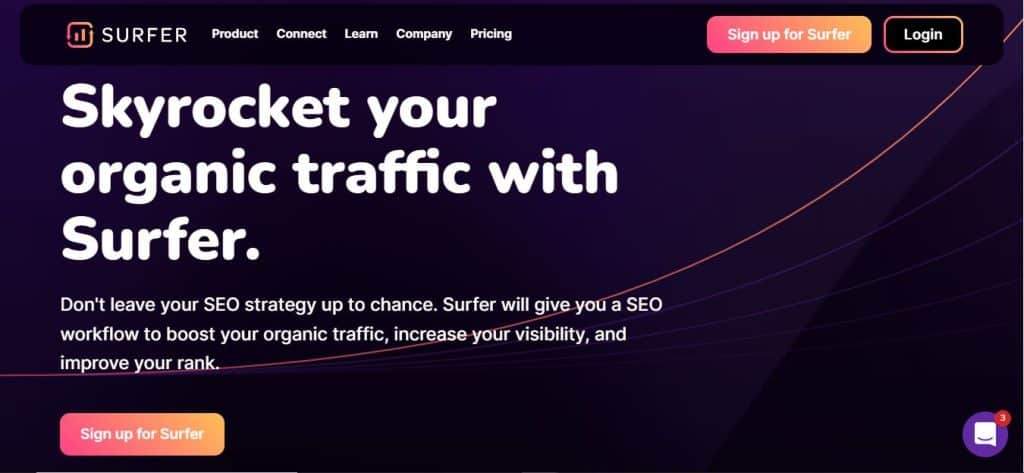 Content Editor Tool
,
One of the best things that is the specialty of the SEO surfer tool is its content editor, which analyzes your content score compared with your competitor, which is one of the major on-page factors. You can deeply analyze your competitor's content score through the content editor. It helps you to understand how much content is added to the heading, paragraph, images, and keywords to your written content. If you get a score between 67- to100, it is best to target. You can check Surfer SEO Review to learn more about it.
SERP analyzer Recommendations
SERP analyzer helps you evaluate your website compared to the top competitors on google. Best recommendations for improving your ranking include keyword density, backlinks, number of headings, and much more. 
In short, surfer, the Seo tool is the best tool that provides all data and insights that help to improve your SERP ranking. It takes approximately 100 on-page factors into account and turns out to be the best SEO content writing tool in the online world.
| | |
| --- | --- |
| Pros | Cons |
| Best content editor | Negative impact on readability |
| Best keyword density suggestions | Pricey |
| Consider over 100 on-page factors | |
| Offers proper content score | |
What Is Semrush?
Keyword research
If you are looking for the best keyword research tool, Semrush is one of the best tools that provide you with all the information needed to make a decision. It includes keyword difficulty, search volume, and related and similar keywords. 
Learn more about Bulklink
You can get the idea of which keyword is performing better and has a high CPC and which is challenging to rank due to high KD, like SEO for family law. 
Assist in Seo writing.
The best way to use this tool is to make an SEO content template with your primary keyword and targeted country. This writing assistant gives you recommendations and analysis compared to your top 10 rivals on google search results. Its recommendation includes tone of voice, readability meter, word count, target keywords, recommended keywords, and much other information needed to improve ranking.
Domain vs Domain
This option will provide a deeply researched comparison of your website with your competitor. You can easily find the top keywords of your website that perform better and drive more traffic to your website and compare it to competitor websites. More information includes CPC, search volume trends of keywords, and the number of searches on google for this keyword. 
Market explorer tool
Suppose you want to understand your competitor better and execute the same or a better strategy to beat them and get accurate data about competitors. In that case, the market explorer keyword tool is the one for you.
It provides you with all the necessary data, insights into your competitors, their growth rate, and benchmark of your data growth through different channels, including (social media, direct, search, and referral) compared to the market standards. It also helps to understand your niche and type of audience better.
In short, Semrush is one of the essential tools that provides digital marketing tools, deep data, and insights information to improve your website's organic ranking. It also helps to track your progress and find more opportunities to engage customers.
| | |
| --- | --- |
| Pros | Cons |
| Keyword tools are efficient and practical | Costly |
| Access to a large quantity of data. | |
| Comprehensive PPC and organic search data | |
| Powerful insights to help understand competitors better | |
| Free version available | |
For more information, watch this video.
Some Semrush and Surfer SEO Alternatives
MarketMuse.
Content Harmony.
Frase.
Clearscope.
Page Optimizer Pro.
Semrush Writing Assistant.
seoClarity.Surfer SEO vs Semrush
Conductor.
Conclusion
We have discussed both tools in detail in Surfer SEO vs Semrush and got to know about surfer SEO as the best writing tool for blog posts and got higher rankings, so give surfer SEO trial. On the other hand, Semrush gives you more opportunities other than Seo, including digital marketing, PPC, and much more.